Product introduction:
Hydraulic home elevator's main power source is the oil pressure of hydraulic system. The hydraulic system give power to cylinder, and cylinder's telescopic traveling will give power to lifting frame, on the navigation to the lift frame and cabin, the cabin can up and down smoothly.
It's mainly made of 4 parts: hydraulic system, electrical system, safety system and mechanical system.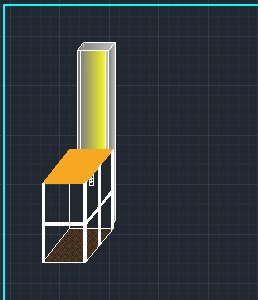 Main parameter: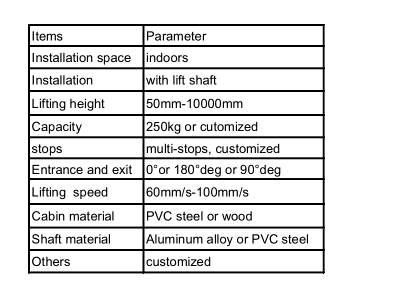 Feature:

1. Easy to installation: only need screw bolts and nuts installation;
2. Safety to use: the equipment has 4 safety systems;
3. Comfortable to use: the lifting speed is suitable for people;
4. Flexible designing: most of the products, cabin, and elevator shaft can be designed as customer's requirement;
5. Flexible installation: It could be installed at any place, indoors or outdoors as your love style;
6. Effective cost: we could support good quality products to you as a lower price;
Safety designing:
1. Door lock sensor: only the cabin door or hall door close well, the elevator can operation;
2. Emergency stop button designed: when meet some emergency condition, press emergency stop button to let the lift stop;
3. Emergency decline button designing: when meet power off or operation failure, press emergency decline button to make the platform slowly down to the bottom;
4. Bottom sensor: if elevator bottom are blocked by obstacle, the lift will stop immediately;
Details:

1. Hydraulic system: pump station with cylinder, oil tank, fill oil hole, unloading oil hole, oil hose, Hydraulic oil;
2. Electrical system: COP, HOP, remote control, PLC, relay, converter, transformer, AC contactor, motor, control electric wires, power line, LED light, power box, limited switch, air-switch;
3. Mechanical system: guide rail, fixing frame, lifting frame, guard wheel, chain, balance cable, side wheel, cylinder base, cylinder, gear wheel, cabin, car door, auxiliary steel for installation, landing door;
4. Cabin designing: we could design the cabin as customer's need, with lock or not, with swing door or hinge door, with stainless finishes or others.
Others:

1. Package: we adopt international standard package with wooden case, if you have other special requirement please note us before package;
2. Shipment: we will take your actually need give you the best solution of the shipment;
3. Delivery time: usually, it cost about 15-20 working days after payment;
4. Document: we give instruction manual and the using hand book;
5. Warranty: 12 months;
6. Assist workers: we could send one or two installation technician workers, you should pay for the trip and accommodation cost and basic salary for the workers;
When you meet any troubles, contact us at the first time. It's my pleasure to help you at any time. Looking forward our cooperation!