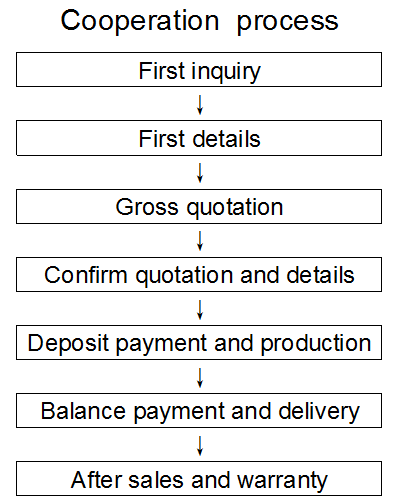 Before our cooperation, we will have several communications.
We will have about 8 steps before our cooperation:
A. Your first inquiry
First, after you get your own project or inquiry, you will ask your clients or customer for more details before you give us your inquiry.
Such as the lifting height, the platform size requirement, the stops requirement, the cabin model requirement, door requirement, material requirement, and some other special requirement.
B. Gross quotation to you
And then you will give us your details and your inquiry, from your inquiry data, we will calculate the cost for you about the products and delivery time, then give youa gross quotation.
C. Discuss about the detailsand quotation
Your maybe a little disagree about our design or about the quotation, after we get the last offer to each other, we can take the basic believe about our cooperation, at last, we will confirm to the quotation and quality requirement and the designing, including the parameter details and project drawing details.
D. Confirm our quotation and details
After we confirm the designing requirement and the quotation item, we will confirm it in PI style orother contract stlye.
E. Confirm our order and payment terms
We will confirm the orders and the payment terms requirement, then you will prepare the payment.
F. Deposit before production
Some time, in our PI or other kinds of contract book, we will let you pay for the deposit before production to contribute our reliance of each other.
G. Production
After the deposit payment complete, we will make the production as the designing requirement, and commissioning the equipment, and get the commissioning recording to you in the forms of video and introduction book.
H. Balance payment and delivery
After the production complete, the commissioning video will give you, after your balance payment, we will deliver the goods for you according to the PI requirement's delivery term.
Then we will preparethe delivery item for you. After we get the BL and your special certificate, we will delivery all the paper material to you.
Note:
1. If your projects are large and really need our help, we can send some technicians to your country to help your construction, only need you to pay for the basic salary and trip cost of the workers.
2. In the commissioning video, if you don't satisfy about the product, we can reform them to you, but it will take more working days.
3. In our package, we will give some wearing spare parts in it, so if need to replace the wearing spare parts in warranty, it dose not belong to quality problem.
4. If you want to know more frequently asked questions please click here.